Friedrich Gottlieb Klopstock
Master of German Lyric Poetry: 1724-1803
One of the "big names" in German poetry, and a native of Quedlinburg, Klopstock is probably best known for his introduction of human feeling into the rather dry and formal style that preceded him.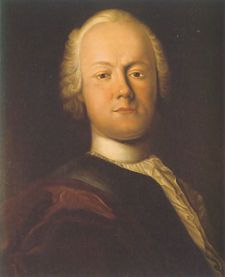 Friedrich Gottlieb Klopstock
He also broke with the rigid structure of German verse and used a free-form, unrhymed meter.
His masterwork was an epic poem about the life of Jesus, called The Messiah, which resulted in the comparison with Milton's Paradise Lost. Parts of this poem were included in Mahler's Resurrection Symphony.
Klopstock also wrote many odes and short poems which dealt with themes of love, death, friendship and appreciation of the higher emotions and thoughts.

Here is an example of his poetry, The Rose Garland:



In the shade of spring I found her
then with garlands of roses bound her;
she did not feel it and slumbered on.
I looked at her: my life hung
upon her life with this glance;
I truly felt it, and knew it not.
But speechlessly I whispered to her
and rustled with the rose garlands;
then she woke from slumber.
She looked at me; her life hung
upon my life with this one glance
and around us rose Elysium.
Klopstock suffered for years from unrequited love for an unattainable cousin and his first wife died in childbirth after only four years of marriage.
In spite of his personal sorrows, he was described by his contemporaries as unfailingly vivacious, cheerful and kind.
When he died at the age of 80, his funeral was attended by princes and hundreds of friends and admirers.
The house in Quedlinburg where he grew up is now a museum about his life and work, located at #12 Schlossbergstrasse on the street leading to the castle
Here is the original, Das Rosenband:



Im Fruehlingsschatten fand ich sie,
da band ich sie mit Rosenbaendern:
sie fuehlt es nicht und schlummerte.
Ich sah sie an: mein Leben hing
mit diesem Blick an ihrem Leben:
ich fuehlt es wohl und wusst es nicht.
Doch lispelt ich ihr sprachlos zu
und rauschte mit den Rosenbaendern:
da wachte sie vom Schlummer auf.
Sie sah mich an, ihr Leben hing
mit diesem Blick an meinem Leben
und um uns wards Elysium.